【News】3 Local Civil Society Groups Take Out Newspaper Ad to say "2050 Zero Carbon Yokosuka"
2021.03.13
On March 13, 2021, three local civil society groups in Yokosuka (No Coal Tokyo Bay, No Coal Tokyo Yokosuka, and Fridays For Future Yokosuka) posted an advertisement in the morning edition of the Asahi Shimbun, Tokyo Head Office Edition.
This ad is to welcome Yokosuka City signing on to the Carbon Neutral Cities Alliance in January 2021 by mayor Katsuaki Kamiji, but at the same time express their concern about JERA constructing new coal-fired power generation units in Kurihama, located in the eastern part in Yokosuka City.
Yokosuka City is required to formulate a roadmap toward true carbon zero and take the lead in stopping the construction of the coal-fired power units in the city that is currently ongoing.
(Ad text is only in Japanese.)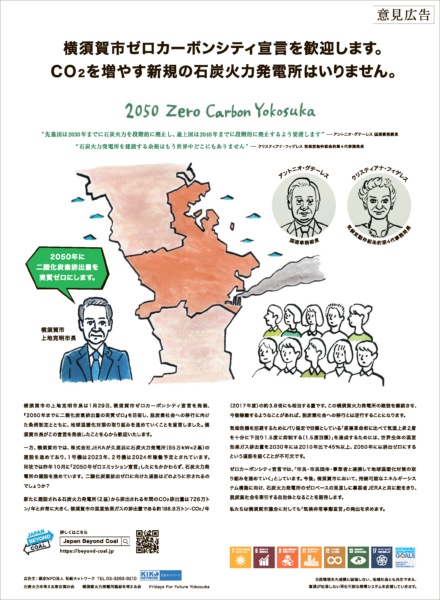 Morning edition of the Asahi Shimbun, Tokyo Head Office Edition
Date: March 13