This page is a comprehensive map and database provided by Japan Beyond Coal. Find out the location, size, and current status of every coal-fired power generation unit in Japan.
Map of coal-fired power plants in Japan
Updated monthly.
Click on any status (e.g. Operating) to display only the plants under that status.
Click on a circle on the map to open detailed information on a specific power plant.
:1000MW and above
:400 to 999MW
:Below 400MW
Number of Units and Capacity of Coal Power by Operation Year
Coal Power Capacity in Japan
Top 10 Coal Power Companies (By Capacity)
(*) Capacity is calculated as a sum of the capacity of units owned by a company and jointly-sponsored units divided by that company's share.
Roadmap for a coal phase-out by 2030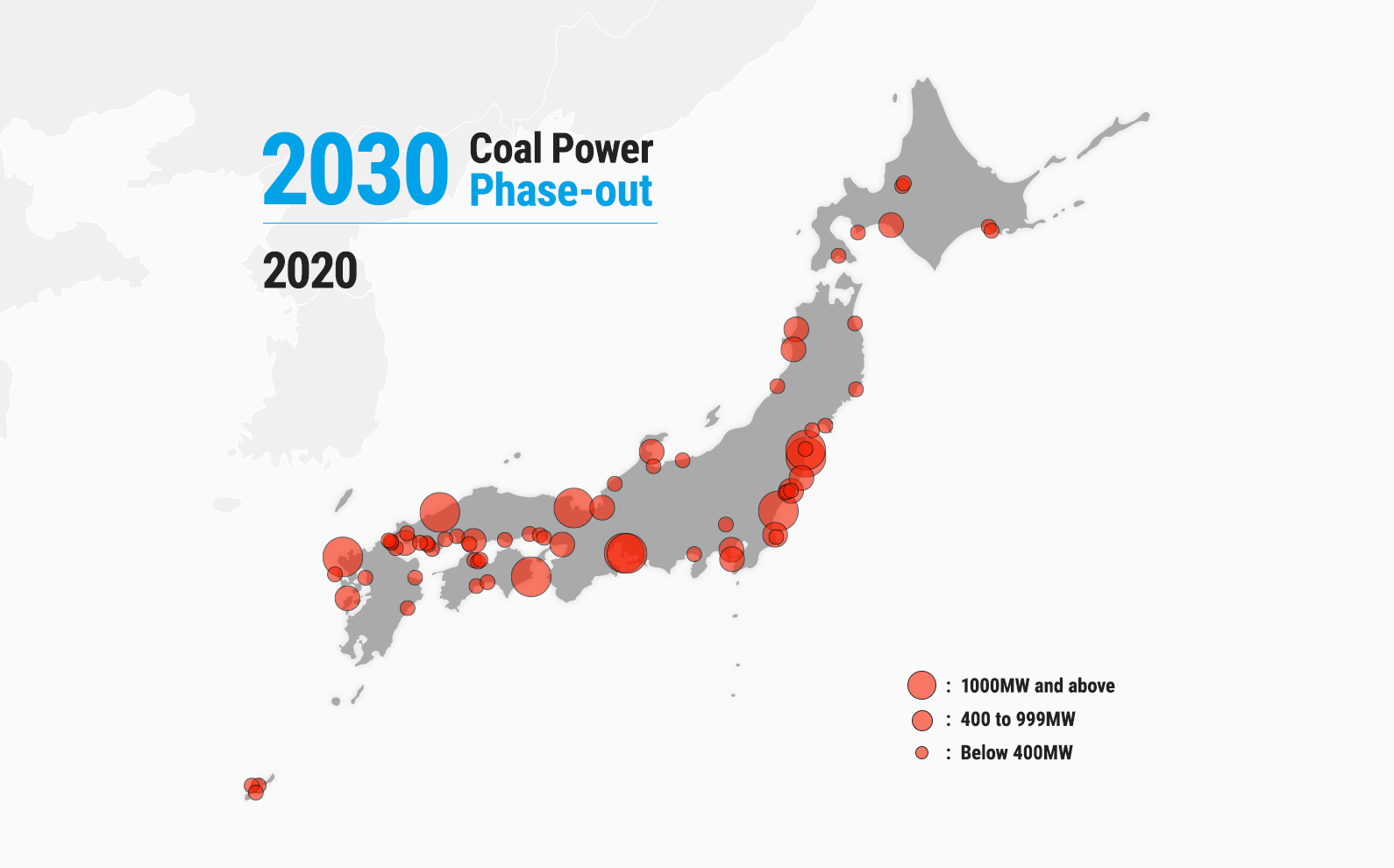 Source: Japan 2030 Coal Phase-Out Scenario (Kiko Network)
Why 2030?
Coal-fired power generation is a significant source of carbon dioxide (CO2) emissions.
A coal phase-out by 2030 in Japan is required to achieve the worldwide goal to limit the global temperature increase to 1.5 degrees Celsius, essential to protecting ourselves and the future of our planet from the climate crisis.
Achieving zero coal by 2030 is an ambitious goal. However, several scenarios show that it is entirely possible in Japan if it creates the vision, sets targets, adopts policies, and takes consistent action.
Already, more than 30 countries are taking action to phase out coal power by 2030.
England, the first nation in the world to build coal-fired power plants, is making steady progress toward a coal phase-out by 2030. Canada, Sweden, France, and Spain are doing the same. Coal-dependent countries - including Germany and the United States - are also reducing their use of coal.
It's time for us to take action.
DOWNLOAD
(Data in Excel file format)
Data Summary
Click here (PDF) to download a summary of the coal plant data.
About the Database
Japan Beyond Coal regularly updates its database on all coal-fired power units in Japan as of 2020, including capacity and scale, year of operation, company, and current status. The scope of the database covers the following units:
* All coal-fired power units generating electricity for sale (including co-firing with biomass)
* Private (in-house) coal-fired power units 30 megawatts or greater
A Note to Users
This is an open database, so anyone is free to use, copy, or adapt it as they need. However, anyone doing so is requested to clearly indicate the Japan Beyond Coal database as a source.