【News】New pamphlet "GENESIS Matsushima Project and its Critical Issues"
2022.07.07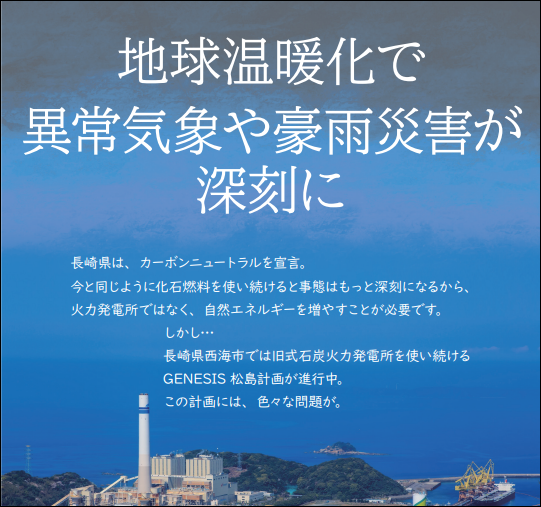 Kiko Network has published "GENESIS Matsushima Project and its Critical Issues", a new pamphlet which analyzes the facts regarding J-Power's GENESIS Matsushima project, which is pointed out as a way to prolong the life of an old, outdated coal-fired power plant.

Link to the pamphlet (Japanese language): GENESIS Matsushima Project and its Critical Issues (PDF)
The GENESIS Matsushima project is a plan to extend the life of a coal-fired power plant that has been operating for over 40 years in Nagasaki Prefecture's Saikai City by installing additional gasification equipment.
This pamphlet provides an overview of the project and outlines its critical problems.
Problems with GENESIS Matsushima:
Even with the introduction of new technology, the power plant will still be burning coal, continuously emitting CO2 with little effect on CO2 reduction.
This project means that outdated coal-fired power plant(s) will continue to operate.
Impacts on human health are a major concern due to the plant's inadequate air pollution control measures.
Implementing this project may impede the introduction and expansion of renewable energy.
The pamphlet also includes information on what citizens can do in response to this project. Currently, GENESIS Matsushima is still in the Environmental Impact Assessment (EIA) stage. During the planning stage last year, in response to the "Document on Primary Environmental Impact Consideration", the largest number of comments in the history of EIA's in Japan was submitted. It is very important that as many comments as possible are submitted in response to this project during the next EIA process of the "Scoping Documents".
We hope the information presented in this pamphlet is useful in helping you understand the problems with this project!
<Announcement> Symposium to think about GENESIS Matsushima project
Kiko Network will hold a symposium on the climate crisis and peace, including discussion of the GENESIS Matsushima project, on July 29 in Nagasaki Prefecture, where GENESIS Matsushima is located. Anybody interested is welcome to participate online as well.  
More information is available here. (in Japanese)
Related News Articles: