On July 25, BloombergNEF (BNEF) published the 2023 version of its report "New Energy Outlook" (NEO), along with a deeper dive report* on Japan that examines the opportunities and challenges associated with Japan's transition to 2050 net-zero through two scenario analyses.
*In addition to global and sector results, BNEF published for the first time country-level results for China, India, Japan, Indonesia, Australia, the US, Germany, France and the UK.
BNEF's two energy transition scenarios
The Economic Transition Scenario (ETS) is a baseline assessment of how the energy transition might evolve from today as a result of cost-based technology changes. Under this scenario, BNEF assumes that the result is a trajectory consistent with 2.6℃ of global warming in 2100.
The Net Zero Scenario (NZS) describes an economics-led evolution of the energy economy to achieve net-zero emissions in 2050. Taking a sector-led approach, it describes a credible pathway to meet the goals of the Paris Agreement.
To achieve global net zero by 2050 is an ambitious goal – BNEF has designed the Net Zero Scenario (NZS) to be plausible and achievable, avoiding drastic step-changes that would over-stretch the expansion capacity of supply chains and the speed at which assets can change over. As a result of NZS analysis, BNEF showed that the pathway has a 67% likelihood of being consistent with a 1.77°C temperature rise by 2050, a 33% chance of staying within 1.5°C, and a more than 67% chance of staying below 2°C. On the other hand, the Economic Transition Scenario (ETS), an analysis of how the energy sector will evolve from today as a result of cost-based innovation, indicates that emissions will decrease by an average of 0.9% annually, resulting in a 2.6°C temperature rise by 2050 with a 67% confidence interval.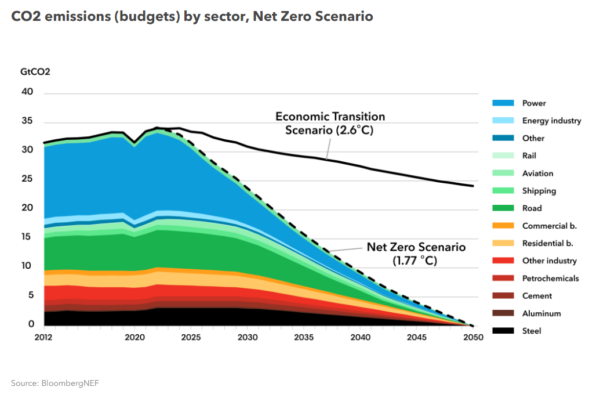 On a global scale, there is a significant gap between these two scenario curves. But what about the analysis for Japan?
Many Japanese companies, including power utilities, trading houses, manufacturers, and financial institutions, have also set net-zero goals. However, none of them show targets for 2030 or a practical pathway toward net-zero by 2050.
Emission reductions from the power sector are key in accelerating the transition to net-zero in Japan
Japan needs to accelerate emission reductions from the power sector; the power sector is the largest source of emissions in Japan, and fossil fuel-based generation accounts for more than 70% of Japan's electricity today. Japan still relies heavily on thermal (fossil) power generation and lags behind other G7 and OECD countries in expanding renewable energy.
Here are points related to Japan when comparing the two energy transition scenarios: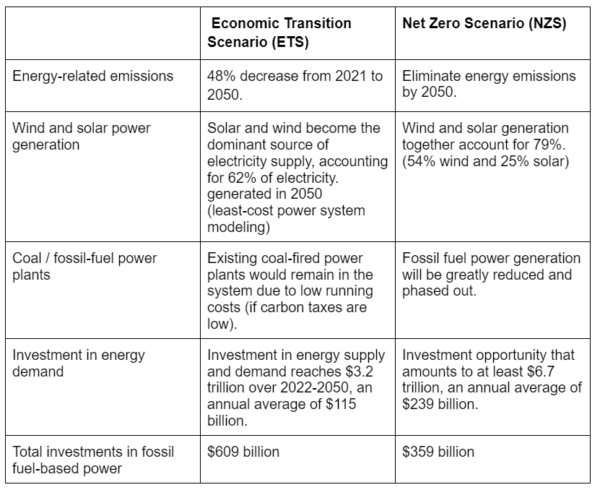 Under the NZS, Japan's energy sector will require $6.7 trillion of investment over 2022-2050. The energy supply side needs $2.4 trillion of total investment, with $0.9 trillion for wind and solar alone, and $315 billion for CCS to abate emissions from the remaining use of fossil fuels. The demand side also requires $4.3 trillion of investment, with electric vehicles accounting for the bulk of this value ($3.8 trillion).
The NZS emphasizes the use of carbon capture and storage (CCS) and estimates that CCS will account for 51% of emissions abatement in industrial sectors by 2050, while hydrogen will only account for 2%. Due to the high costs associated with green hydrogen production in Japan as well as high transportation costs for imports, BNEF assumes that hydrogen will not become more widely used. The report notes that the cheapest way to decarbonize the power supply is to maximize the introduction of solar and wind power generation, to promote the use of storage batteries and CCS in thermal power plants, and to restart existing nuclear power plants. Ammonia-coal co-firing has not been included in either scenario because of its lack of economic feasibility.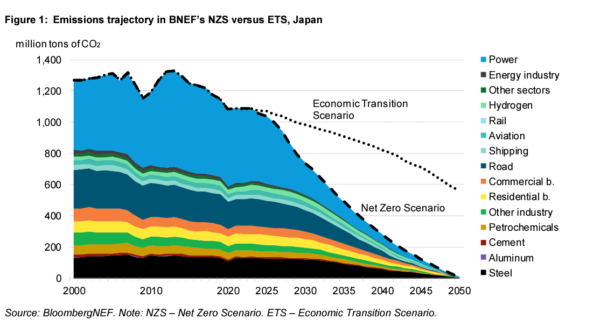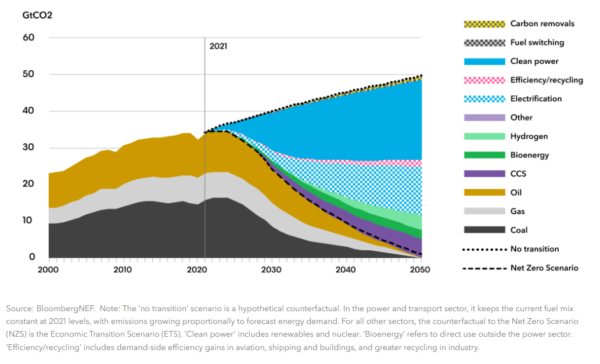 Japan needs to accelerate its energy transition and the adoption of renewable energy
Although Japan has set targets for a 46% emissions reduction by 2030 (from 2013 levels) and net-zero emissions by 2050, it has yet to present any pathway to achieve these goals. Japan needs to adopt relevant policy measures in line with its emission reduction targets instead of over-relying on hydrogen and investing in costly unproven technologies such as retrofitting existing coal-fired power plants to co-fire ammonia.
From the standpoint that it is possible to achieve net-zero emissions by accelerating the deployment of renewable energy, six key recommendations are outlined for Japan:
Accelerate renewable power project development
Set phaseout targets for unabated fossil fuel-based power plants
Scale up investment in the grid to support higher uptake of renewables
Set phaseout target for fossil fuel-based vehicles and boost electrification of mobility
Shift Japan's hydrogen subsidies to focus on critical clean hydrogen applications
Implement more stringent carbon pricing mechanisms
Report Download Links:
BNEF
Japan Can Meet Net-Zero Goal With Minimal Reliance on Hydrogen, Report Shows (Link)
New Energy Outlook 2022(リンク)
New Energy Outlook 2022, Regional Reports (リンク)
Reference
Japan's Ammonia-Coal Co-Firing Strategy a Costly Approach to Decarbonization, Renewables Present More Economic Alternative (September 28, 2022) (Link)
Written/Published by: BloombergNEF
Published: July 25, 2023