【Report】Banking on Climate Chaos: Fossil Fuel Finance Report 2022
2022.04.26
On March 30, Rainforest Action Network (RAN) and co-authors published the report "Banking on Climate Chaos: Fossil Fuel Finance Report 2022". This report is the most comprehensive global analysis on fossil fuel finance.
The report's analysis indicates that in the six years since the Paris Agreement was adopted, the world's 60 largest private banks, including 4 major Japanese banks, financed fossil fuels with USD $4.6 trillion. In 2021, banks financed $742 billion for fossil fuels – significantly more than in 2016, the year the Paris Agreement was signed.
Funding for coal power has essentially been flat over the last three years, at around $44 billion – this alone is alarming, given that coal power needs to be rapidly phased out this decade and next.
This report also evaluates loans and underwriting to the top companies in the fossil fuel sector that should be watched closely. Among the 12 worst banks in terms of fossil fuel investments and underwriting after the Paris Agreement, MUFG and Mizuho Financial Group are ranked in 6th and 8th, respectively. These two banks are also highlighted for their increased funding for fossil fuels in 2020-2021.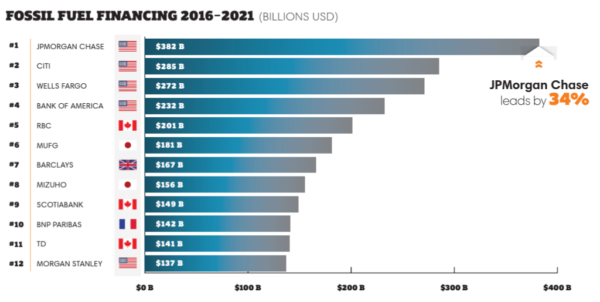 Source: Banking on Climate Chaos: Fossil Fuel Finance Report 2022
"The dirty dozen banks after the Paris Agreement" (Fossil fuel finance, 2016-2021, billions USD)
Out of the 60 banks in this report, 44 banks have committed to make their portfolios align with net zero by 2050, as well as 4 Japanese banks (3 megabanks, and Sumitomo Mitsui Trust Holdings). This highlights the reality that their actual activities contradict the goals they have set, and a drastic change in policy is needed immediately.
Written / Published by : Rainforest Action Network and co-authors
Published : March 30, 2021 (JST)