[Report] Japanese Banks Continue to Support the Global Coal Industry
2022.02.24
Urgewald, Reclaim Finance, and global environmental organizations have published "Financing Global Coal Exit 2021", the results of a study on global financial institutions and investors investing in the coal industry. This research is based on the "Global Coal Exit List (GCEL)", which covers 1,032 companies financing coal-related activities, ranging from coal mining, the operation of coal-fired power plants, and the development of coal-related infrastructures.
Japanese investment and loans to coal-related industries continue
For the third consecutive year, Japan's three megabanks sit alone as the top 3 worst financial institutions in terms of the amount of loans to coal-related industries.
Banks from only 6 countries – China, the US, Japan, India, the UK and Canada – were responsible for 86% of overall bank financing for the coal industry.
Between January 2019 and November 2021, 376 commercial banks provided US$ 363
billion in loans to the coal industry. The top 3 lenders in this "dirty dozen" ranking are
the three Japanese banks Mizuho Financial (33.604 US$ billion), Mitsubishi UFJ Financial (23.151 US$ billion) and SMBC Group (20.431 US$ billion).
A researcher from Urgewald warns, "If banks from these 6 countries continue business as usual, we won't be able to move out of coal in time to keep the 1.5°C limit within reach."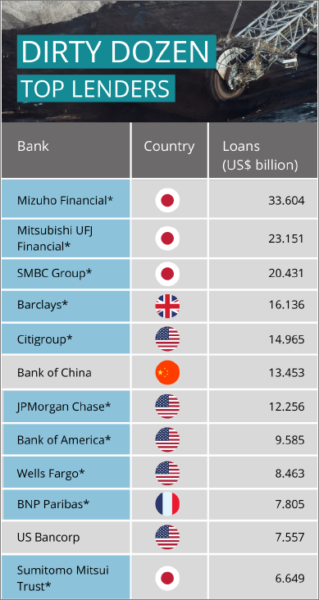 Institutional investors also support the coal industry
Investors from 6 countries account for over 80% of institutional investments in the coal industry.
This research identifies over 4,900 institutional investors with combined holdings of over US$ 1.2 trillion in the coal industry (November 2021). Led by BlackRock, U.S. institutional investors occupy places 1 through 4 in the ranking of institutional investors. The Japanese Government Pension Investment Fund (GPIF), which is analyzed to have invested about 3.2 trillion yen, is listed in fifth place.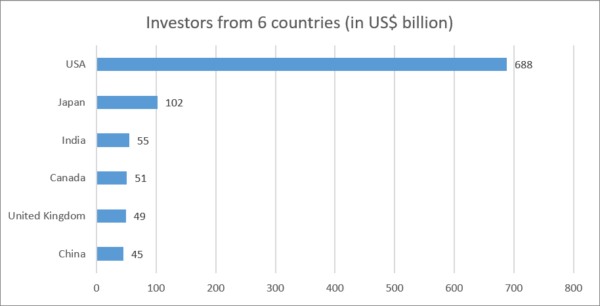 From this report, it is clear that huge amounts of money are flowing to the coal industry from Japan's private banks, including the three megabanks, and the GPIF, which manages and invests public pension funds entrusted by the Japanese public.
Considering many of the financial institutions and institutional investors listed in the research are members of initiatives committed to net zero, there is a strong need for them to tighten their policies to end support for coal and fossil fuels, consistent with the Paris Agreement 1.5°C target.
Urgewald publication: Who Is Still Financing the Global Coal Industry? PDF
Link to the Urgewald "Finance Research | Global Coal Exit List"  Link