On April 12, 2023, energy think tank Ember published its report "Global Electricity Review 2030". This new study shows that electricity generated by renewable energy sources reached a record high in 2022.
Global decarbonization in the power sector is progressing with record increases in wind and solar power. As Ember's senior electricity analyst, Małgorzata Wiatros-Motyka, commented "In this decisive decade for the climate, it is the beginning of the end of the fossil age. We are entering the clean power era."
For this fourth annual report, Ember analyzed electricity data from 78 countries that account for 93% of global electricity consumption and estimated the remaining generation. As a result, it revealed an increase in the share of solar and wind power generation.
The share of solar and wind power in the global electricity mix in 2022 reached 12%, up from 10% in 2021.

Solar generation rose by 24%, making it the fastest-growing electricity source for 18 years in a row. Wind generation grew by 17%.

The growth alone in wind and solar generation (+557 TWh) met 80% of global electricity demand growth in 2022 (+694 TWh).

Although the share of renewable energy is increasing, power sector emissions rose in 2022 (+1.3%), reaching an all-time high: Coal generation increased by 1.1%, and gas power generation fell marginally (-0.2%) in the wake of high gas prices globally.

Only 31 GW of new gas power plants were built in 2022, the lowest in 18 years. But 2022 saw the lowest number of coal plant closures in seven years.

2022 hit "peak" emissions; a new era of falling power sector emissions is close.
Although global electricity generation is still dominated by fossil fuels (coal accounted for 36%; fossil gas for 22%; and other fossil fuels for 3% of global generation), Ember notes that the recorded increase in solar and wind was the most significant change in power generation in 2022, and estimated that the use of coal, oil, and fossil gas for power generation will decline in 2023.
The report mentions that Japan has the fifth largest power sector CO2 emissions (468 million tonnes), accounts for 3.8% of the total global emissions from electricity generation, and still highly relies on fossil fuels while use of renewables is increasing.
Solar accounted for 10% of Japan's total generation but wind accounted for only 0.9%. Solar and wind combined now make up 11% of Japan's electricity generation, almost triple the share from 2015, but it hasn't caught up to the world average.

Japan's power sector has an emissions intensity of 484 gCO2/kWh, which is slightly higher than the global average of 436 gCO2/kWh.

Its annual demand per capita of 7.8 MWh is twice as high as the world average of 3.6 MWh. At 3.8 tonnes of CO2, Japan's per capita emissions from the power sector are over twice as much as the global average of 1.6 tonnes of CO2.

Solar accounted for 10% of Japan's total generation in 2022 (99 TWh), but further increase is required. Wind accounted for only 0.9% (8.6 TWh). It is pointed out that Japanese wind power remains behind in development compared to other countries.

Japan's power demand showed its largest increase since 2010 due to extreme temperatures in January and heat waves during the summer. This caused Japan's total power sector emissions to increase (2.1%) in 2022 for the first time in a decade.

Solar surpassed a 10% share in total generation for the first time. With its share in power generation falling to 34%, fossil gas declined for the fifth consecutive year. Coal generation rose significantly by 3.1%, largely to cover drops in nuclear generation and hydro. The lack of additional capacity deployment and low wind speeds led to a 4.4% decline in wind generation.

In stark contrast to global trends, Japan's annual power demand fell by 2.1% over the last two decades, from 988 TWh in 2000 to 967 TWh in 2022. Despite the decrease in power demand, Japan's total emissions have increased by 19% in the last two decades, largely due to the closure of nuclear power plants, which resulted in a higher reliance on fossil fuels. Japan's power sector emissions intensity increased to 484 gCO2/KWh in 2022, compared to 397 gCO2/kWh in 2000.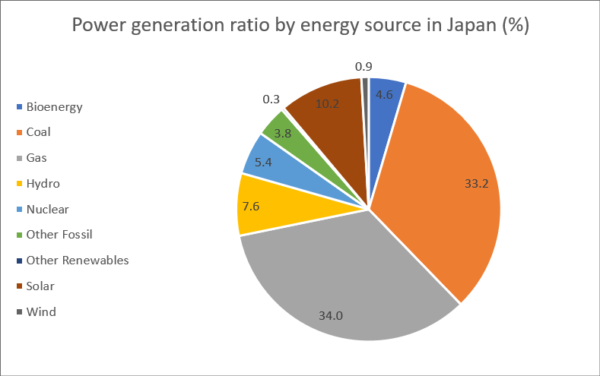 According to the IEA's net-zero scenario, Japan needs to achieve net-zero emissions from electricity generation by 2035, and to do so, Japan must further raise its target percentage of renewable energy (36-38%) by 2030, which was raised once in the draft Strategic Energy Plan. However, Japan is instead focusing on restarting nuclear power plants and aggressively promoting ammonia co-firing. Ember points out that focusing on ammonia co-firing will likely prove a costly and ineffective way to reduce emissions, and is concerned that agreements between Japan and ASEAN countries to support ammonia-coal co-firing may slow the transition to renewable energy throughout Southeast Asia.
This report clearly demonstrates that renewable energy is rapidly increasing globally. Japan must also lower its dependency on fossil fuels as soon as possible and advance the expansion of renewable energy instead of spending a great deal of money and effort promoting ammonia co-firing.
Related Links
Global Electricity Review 2023(Link)
Electricity Data Explorer(Link)
Written/Published by: Ember
Published: April 12, 2023