【Report】1.5°C-consistent benchmarks for enhancing Japan's 2030 climate target
2021.03.09
On March 4, 2021, Climate Action Tracker released the report "1.5°C-consistent benchmarks for enhancing Japan's 2030 climate target".
Based on recent analyses by Climate Action Tracker and its member organizations New Climate Institute and Climate Analytics, this policy brief discusses the economy-wide and sector-level benchmarks in 2030 and beyond in order for Japan to be consistent with the Paris Agreement's long-term 1.5°C warming limit.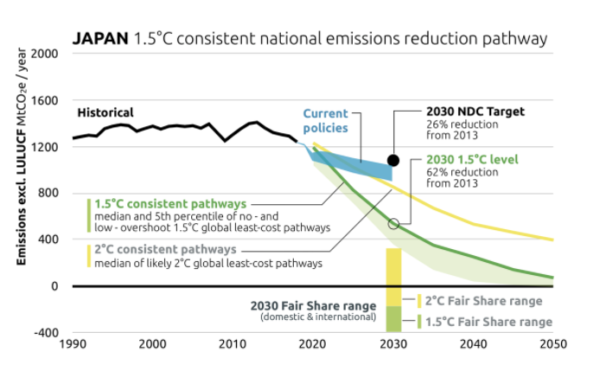 KEY POINTS:
On an economy-wide level, Japan must reduce its domestic greenhouse gas (GHG) emissions to 62% below 2013 levels by 2030 in order to be consistent with the Paris Agreement's 1.5°C target.
Transformational changes need to take place in all sectors by 2030.  In the power sector, Japan must phase out unabated coal-fired power plants by 2030 and increase electricity generation from renewables to about 60% or greater. Additionally, it is just as important for Japan to drastically strengthen efforts to reduce energy demand.
Green (renewable energy-based) hydrogen will become another key to decarbonizing a number of industrial processes where direct electrification is not viable, as well as in heavy-duty transport and aviation. It is crucial, however, that the hydrogen consumed is produced from renewables and deployed only where alternatives are not available.
It is most important to deploy existing commercial technologies considered essential for 2050 net zero as much as possible by 2030 (e.g. wind – including offshore wind – and solar PV technologies, zero energy buildings and houses [ZEB/ZEH], and electric vehicles [EVs]).
This policy brief highlights that the current Japanese reduction target is not high enough to achieve the Paris Agreement's long-term 1.5°C target, nor net zero greenhouse gas (GHG) emissions by 2050. To be consistent with its new 2050 net zero GHG emissions goal, the Japanese government needs to strengthen its 2030 Paris Agreement target (Nationally Determined Contribution; NDC).
Additional investment into the development of innovative technologies, as laid out in the Green Growth Strategy of December 2020, will facilitate Japan achieving net zero by 2050. The benchmarks presented in this brief, however, are determined so that the world would not have to rely excessively on unproven negative emission technologies in the second half of this century.
The 26th UN Climate Change Conference (COP26) will take place in November 2021, with increasing the ambition of each country's NDC as the focal issue.
Report:
1.5°C-consistent benchmarks for enhancing Japan's 2030 climate target (Press Release) (PDF)
March 2021
Written/Published by : Climate Action Tracker
Published : March 4, 2021