[News] "Japan, Time to End Coal" ad in the Financial Times: Japan's continued backing of coal power has left it isolated among the G7
2021.06.07
The No Coal Japan coalition – an alliance of over 35 environmental groups – and Beyond Coal campaign which aims for a 2030 coal phase out in Japan, Australia, Europe, South Korea, and the United States has jointly placed a full page ad in the UK's Financial Times (Asia edition) calling on the world's third largest economy to end coal and invest in renewable energy today.
During pre-G7 negotiations, Japan has repeatedly attempted to stymie an agreement on ending overseas coal finance and refused to agree to end domestic coal by 2030. Its insistence on maintaining loopholes risks wrecking any eventual deal.
This ad is a strong message from international environmental groups to tell Japan must end its support for coal at home and abroad, including financing oversea projects, the Indramayu and Matarbari 2 coal plants.
The facts we should know:
Japan is the only G7 country still building coal-fired power stations at home and financing coal power overseas.

Despite its pledge to reach Net Zero by 2050, Japan is currently building 6GW of new coal-fired power.

Japan is still actively considering financing the construction of the Matarbari 2 coal plant in Bangladesh and Indramayu coal plant in Indonesia.

Japan has been

leading the pushback against the recent International Energy Association (IEA) net zero pathway which called for no new fossil fuels.

The majority of the coal burned in Japan is imported from Australia. Producing coal in Australia and burning it in Japan causes serious damage to people, nature and wildlife in both countries.
Japan's addiction to coal is undermining efforts to address the climate crisis. Japan must end its support for coal at home and abroad. The Prime Minister Suga has already made the positive move of pledging to cut Japan's emissions by 46% with an effort to 50% by 2030. The G7 would be a good opportunity to improve Japan's tarnished international reputation on climate.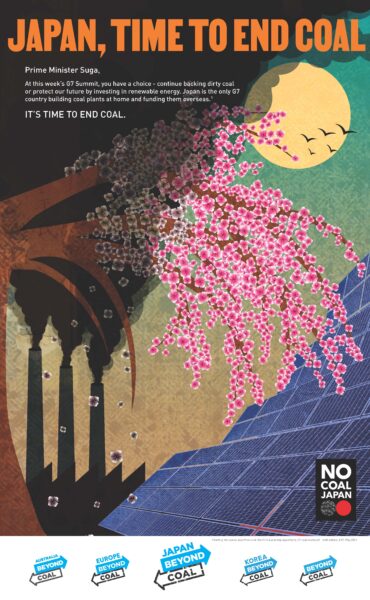 Here is a link to Press Release: Japan under pressure at G7 over coal addiction