On June 22, 2022, youth in Germany and Japan joined together German youth staged a demonstration in front of the Japanese embassy in Berlin to protest the Japanese government's blockage of a commitment to a concrete coal-fired power phase-out date in G7 (Group of Seven – Japan, Germany, US, UK, France, Canada, Italy) negotiations. In Germany, youth protested in front of the Japanese Embassy in Berlin, while in Japan local residents and youth gathered in front of the construction site of the Yokosuka coal-fired power plant.
Youth climate activists from Fridays for Future (FFF) Germany organized the demonstration, declaring solidarity with the Japanese citizens fighting against new coal-fired power plants in their communities, such as the planned coal units in Yokosuka. The youth organized the demonstration in response to recent news from the G7 environment, climate and energy ministerial meetings that Japan was blocking a language supported by the other G7 countries to commit to phasing out domestic coal-fired power by the 2030's and decarbonize the power sector by 2035. 
The ministerial summit resulted in a communique that featured commitments watered-down at the insistence of Japan – a coal exit was agreed to but without a phase-out date, and countries instead committed to a "predominantly" decarbonized power sector by 2035.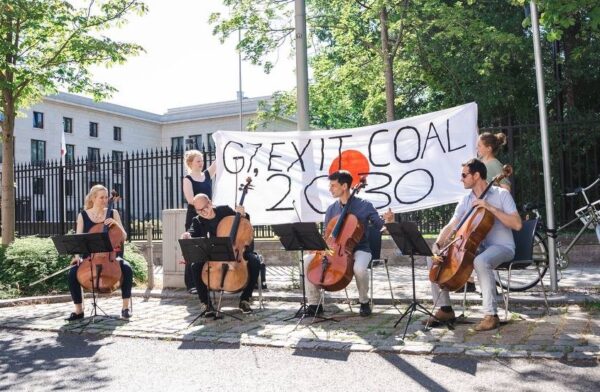 Gathering in front of the Japanese embassy in Berlin, German youth called for a 2030 coal phase-out using signs, speeches, and even an orchestra, in order to send a message to G7 leaders, who will gather at the upcoming G7 Summit on June 26-28. 
In Japan, since Tanabata (Star Festival) is coming soon, people gathered in front of the coal-fired power plant construction site in Yokosuka wearing yukata (traditional Japanese summer kimono) in the evening after the sun has set to convey the sense of danger that in continuing coal-fired power.