【News】 Half of Europe's coal plants now closed or committed to close by 2030
2021.03.25
The global coal phase-out accelerates: Half of Europe's coal plants now closed or committed to close by 2030 
With the announcement of the September 2022 closure of the UK's West Burton coal plant on March 23, 2021,a major milestone has been reached in Europe's phaseout of coal power: since 2016, 162 of Europe's 324 coal-fired power plants have closed or announced a pre-2030 closure date, marking the halfway point in Europe's path to closing all of its coal plants by 2030. 
The coal phase-out in the European Union (EU) is also increasingly speeding up; over 70 of these closures were announced in the last year alone. National climate targets have played a key role in phasing out coal in the EU, as 14 of Europe's 28 coal countries have either announced they will phase-out coal by 2030, or are already coal free. 
The following points further show the swiftly declining role of coal power in Europe's energy mix:
Coal power generation in EU countries more than halved since 2016.

Coal power generation in the EU has

declined by 52.8 percent

, from 784 TWh in 2016 to 370 TWh in 2020. Coal supplied just 13% of Europe's electricity in 2020. 

In 2020, renewable energy sources overtook fossil fuels as the main source of electricity in the EU.

38% of the EUs energy came from renewable sources

, while only 37% came from fossil fuels. 

Wind generation rose 9% and solar generation rose 15% in 2020, and together provided one-fifth of Europe's energy.

Half of coal's decline was

already replaced by new wind and solar in 2020

, and in Denmark, wind and solar alone provided 62% of the country's electricity in 2020.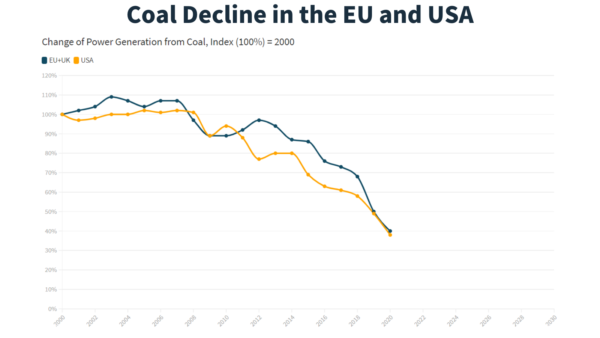 The EU's new target of 55% greenhouse gas emission reductions by 2030 compared to 1990 levels will accelerate this trend, with the share of power generation from renewables required to grow to almost 70% by 2030 in order to meet it. Along with the EU's recent call for a global coal power phase-out and end to coal financing, the world is showing that it's moving on from coal power to a future of renewable energy. 
Japan has declared a commitment to achieve net zero greenhouse gas emissions by 2050, yet it still plans to continue using coal power beyond 2030. As a signatory of the Paris Agreement and OECD country, Japan must also set a goal to phase out coal by 2030 in order to achieve the goal of limiting the global temperature rise to 1.5°C.