NGO BankTrack has released a report demonstrating that signatory banks to the Equator Principles have been involved in financing at least 200 fossil fuel projects even after the Paris Agreement was signed in late 2015.
The report "Equator Compliant Climate Destruction: How banks finance fossil fuels under the Equator Principles" highlights eight fossil fuel projects financed or set to be financed under the Equator Principle despite concerns about their impact on the climate and on local communities.
What are the Equator Principles?
The Equator Principles (EPs) are a risk management framework for determining, assessing and managing environmental and social risks in financing projects like large-scale infrastructure development and construction. The EPs are applied globally to various projects, including national and regional financial projects, and all industry sectors. Many worldwide financial institutions, including three Japanese megabanks, have officially adopted the EPs.
What are the main points of this report?
Equator Principles Financial Institutions (Equator banks) that commit to implementing the EPs are required to confirm compliance with the guidelines and cannot provide financial services to projects that do not comply with the EPs. However, this report shows that Equator banks have been involved in the financing of over 200 fossil fuel projects that have significant negative impacts on the global climate as well as local communities and their environment.
BankTrack researched 195 fossil fuel projects that Equator banks reported having financed, and the report highlights eight projects financed or set to be financed under the EPs.
Japanese banks' involvement in the eight highlighted projects
Japanese banks are deeply involved in some of those projects, as listed below.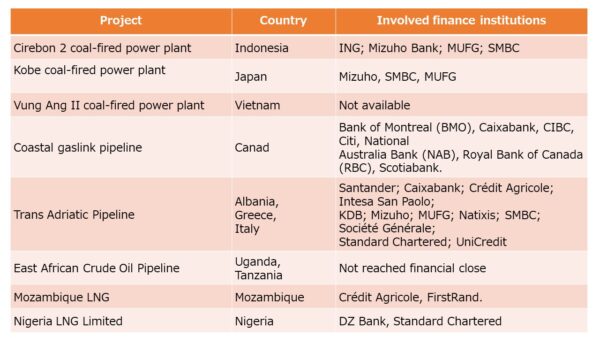 The report also points out that some Equator banks have provided financing for projects but have failed to report them. Nevertheless, among the Equator banks surveyed that have reported financing of the 200 fossil fuel projects, the three major Japanese banks (Sumitomo Mitsui, Mitsubishi UFJ, and Mizuho) rank first to third in the number of loans provided.
Compliance with the Equator Principles is inadequate and does not contribute to the objectives
This report analyzed whether the climate-related requirements of the EPs are met in the eight cases mentioned above, and concluded that none of the requirements are fully complied with.
The purpose of the EPs is to be a functional tool for managing environmental and social risks, but the current situation in which banks that have adopted the Equator Principles continue to systematically finance fossil fuel projects is inconsistent with this purpose. Moreover, the ongoing financing of fossil fuel expansion projects is not consistent with the goals of the Paris Agreement, which aims to limit the increase in global average temperature to 1.5 °C.
Under the EPs, financing of new fossil fuel extraction projects, financing of infrastructure construction that may have a significant negative impact on the natural environment and local communities, and financing of projects that violate human rights, including the rights of indigenous peoples, should not be allowed.
Related information:
Equator Banks involved in financing at least 200 fossil fuel projects since Paris (Link)
Equator Compliant Climate Destruction: How banks finance fossil fuels under the Equator Principles (Link)
Written / Published by : BankTrack
Published : October 26, 2021 
Image Feature credit: Equator Compliant Climate Destruction report cover, BankTrack